Posted on : 17-Mar-2009 | By : admin | In :
Show all
I'm glad to announce an all new WordPress theme from Blog Oh! Blog called Portfolio Press. This is a dark-colored theme suitable for anyone who wants to create a quick portfolio or wants to showcase his work through WordPress. The theme is fully CSS/XHTML validated, WordPress 2.6+ ready and comes with easy to modify code. The comments are nicely designed with Gravatar functionality.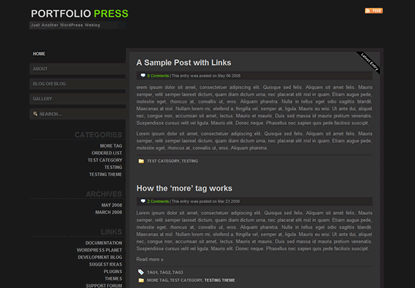 The theme is very small in size (58Kb only) and loads very quickly. It is also SEO optimized and has been tested with Firefox, IE6, IE7 and Opera browsers.
How to install this theme?
You should have WordPress installed and ready either at your local host or on your paid hosting
Download the zip file for this theme. Extract the theme folder and upload it to /wp-content/themes/ in your WordPress installation.
Log in to your WordPress admin panel, go to the "design" section and click on "Portfolio Press" theme to apply it.
Check your blog for the theme change.
Demo & Download Portfolio Press
Need help? Contact us