Posted on : 31-Jan-2012 | By : admin | In :
Show all
Twitch Magazine Theme is an Awesome WordPress Theme that is perfect for blogging, portfolio or magazine sites. This theme uses the shade of blue for it?s design and a great jQuery script for the Featured Articles. The theme has thumbnails to add a nice effect to the look of the theme. This theme does now show the sidebar on the index page to give more attention to your content. This theme uses a powerful Admin Panel on its background and works with the latest version of WordPress.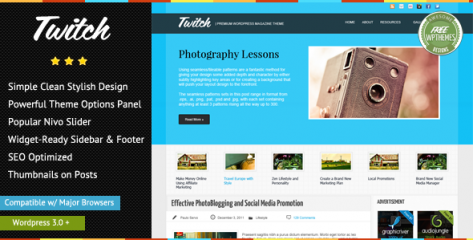 License: Use free with footer intact.

Need help? Contact us