« WoWar - Free WordPress Theme
Woogle - The Google Search Engine Clone »


Xeromobile - Free WordPress Theme
Category

Computer/Technology,License: CCA

Features

125*125 Ad Ready, 2 Columns, Featured Section, Fixed Width, Right Sidebar, Segmented, White, Widget Ready

Xeromobile is a two columns WordPress theme. The main color scheme for this theme are Dark Grey and Orange. Xeromobile is best use for mobile phone blogs. The four featured columns on the top are one of the main feature on this theme.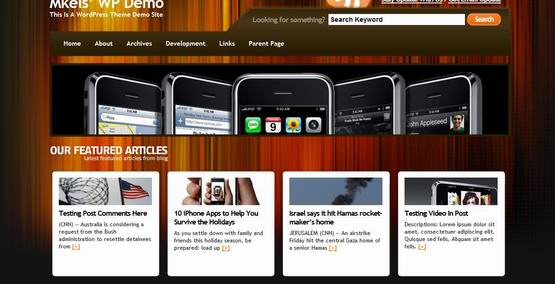 Demo | Downlaod Xeromobile (699)
Related posts
WP NewsMag - Beautiful WordPress Theme
Purple Swril - Free WordPress Theme
Igloo News 2.0 - Smashing WordPress Theme
WP Touch - Mobile Plugin + Theme for WordPress
Slurpie - Premium WordPress Theme
Gray Magazine - Orange and Gray WordPress Theme
Centric - Smashing WordPress Theme
Helium – A Dynamic WordPress Theme
BoldLines - Free WordPress Theme
Free Gallery Theme - AutoFocus
coded by nessus
Bloggers Who Like This Theme, Also Like
NewsTheme - Free Wordpress Theme
FinancialPress - Elegant Wordpress Theme
Best Now - Elegant Wordpress Theme
Magasin Cinco - Magazine Styled Wordpress Theme
Entrepreneur Pro - Free Wordpress Theme
Arras - Wordpress Theme with Featured Section
Magsess - 2 Column Wordpress Theme
Discussion Magazine - Wordpress Theme
StudioWordpress Premiere WP Theme
Slurpie - Premium Wordpress Theme