« Black Aud Car - Wordpress Theme
White Cappuccino - Free Wordpress Theme »




Report a Theme
Elegant Blue - Free Wordpress Theme
Category

Computer/Technology, License: CCA, Light

Features

125*125 Ad Ready, 2 Columns, Blue, Fixed Width, Right Sidebar, Valid HTML/CSS, White, Widget Ready

Elegant Blue Wordpress Theme is 2 columned and widgetized. It contains ads in various places, so you can monetize your blog easily. Elegant Blue theme is WordPress 2.3.x compatible and it is valid CSS and XHTML.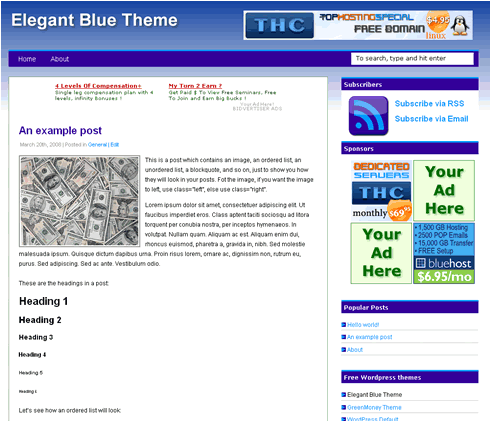 Demo | Download Elegant Blue (10)
Bloggers Who Like This Theme, Also Like
Aerodrome - Free Wordpress Theme
Okinawa Sky - Elegant, Blue Wordpress Theme
Imperial Gold - Beautiful Wordpress Theme
Woogle - The Google Search Engine Clone
StudioWordpress Premiere WP Theme
DailyDiary - Free WP Theme with a Nice Textured Look
Slick Blue - Wordpress Theme
Rugged - Free WordPress Theme
Magasin Cinco - Magazine Styled Wordpress Theme
White Cappuccino - Free Wordpress Theme