Posted on : 18-May-2011 | By : admin | In :
Show all
Gadoliniument WordPress theme has a welcome widget section, horizontal jQuery Accordion image slider, custom front page widgets and custom typography to add elegant details to your blogs.
Installing Gadoliniument WP theme will transform your basic WordPress blog into a fully functional website with CMS features.
Another important feature we added into this theme is the easy customization of the Site?s title. You can just choose whether to upload an image or just plain text logo.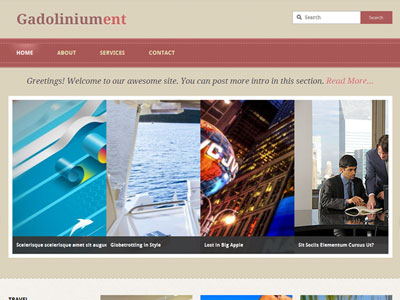 Live Demo | Download | WordPress Theme
Check out the other theme features:
Accordion Image Slider
Custom Front Page
Welcome Message
WordPress MU Compatible
Custom Font integration
Facebook Like Box
Twitter Status integration
Popular Posts
Spread the articles via Social bookmarks (TweetMeme, Delicious, Digg, Newsvine, RSS, Stumbleupon, Technorati, Twitter)
Separation of Comments and Trackbacks
SEO optimized
Automatic Thumbnail Resizer (without using a custom field)
Compatible with WordPress version 3.0+
RSS and Twitter subscription
Google Analytics code integration
Built-in Page Navigation
Advertisement Blocks Ready
Gravatar Enabled