Posted on : 16-May-2011 | By : admin | In :
Show all
This blog theme works well in a multisite environment because it is WordPress MU compatible. If you are working on a network of sites (personal blogs, tech blogs, design blogs and other related blog niches), Samariumifide WP theme suits your needs.
It has fifteen (15) slideshow transition options to give different effects to your featured posts.
Another important feature we added into this theme is the easy customization of the Site?s title. You can just choose whether to upload an image or just plain text title.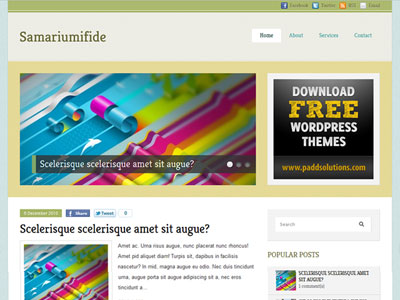 Live Demo | Download | WordPress Theme
Check out the other theme features:
WordPress MU Compatible
Featured Content Slider
Custom Font integration
Facebook Like Box
Built-in Advertisement Spots
Twitter Status integration
Compatible with WordPress version 3.1+
Dropdown Categories Menu
Spread the articles via Social bookmarks (Delicious, Digg, Newsvine, RSS, Stumbleupon, Technorati, Twitter)
Better Comment System
Separation of Comments and Trackbacks
SEO optimized
Automatic Thumbnail Resizer (without using a custom field)
Popular Posts
Google Analytics code integration
Built-in Page Navigation
Gravatar Enabled