Posted on : 11-Jun-2011 | By : admin | In :
Show all
Terbiumable WordPress theme makes your basic WordPress blog into a fully functional business or corporate website.
It has a customizable front page widgets, horizontal jQuery Accordion image slider, magazine layout content area and custom typography for an added professional touch. These features are easily accessible via the Admin Options area.
Like our previous WordPress theme release, Terbiumable is also tried and tested to work in a multisite environment. Terbiumable is WordPress MU compatible theme.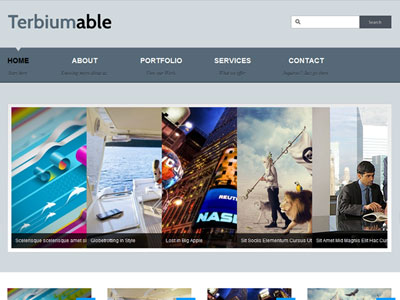 Live Demo | Download | WordPress Theme
Check out the other theme features:
Accordion Image Slider
Custom Front Page
Welcome Message
WordPress MU Compatible
Custom Font integration
Facebook Like Box
Twitter Status integration
Popular Posts
Spread the articles via Social bookmarks (TweetMeme, Delicious, Digg, Newsvine, RSS, Stumbleupon, Technorati, Twitter)
Separation of Comments and Trackbacks
SEO optimized
Automatic Thumbnail Resizer (without using a custom field)
Compatible with WordPress version 3.0+
RSS and Twitter subscription
Google Analytics code integration
Built-in Page Navigation
Advertisement Blocks Ready
Gravatar Enabled