Posted on : 05-Jun-2009 | By : admin | In :
Show all
Typebased
Typebased is a nice, free, personal blog design, with a very clean theme that looks professional and elegant style, enough to be used on a topical site. It?s somewhat narrow content column makes it perfect for sites with text-heavy posts.
The theme has the standard WooThemes backend, which offers several customization options, and 5 color schemes are available.
The sidebar is widgetized, and the usual WooThemes banner management system is built-in, or you could opt to use a third-party plugin like WP125. Also included all of the other WooThemes goodies in the backend like custom widgets, integrated banner ad management etc.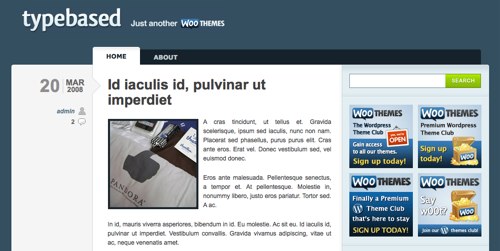 License: Free to use must keep footer intact AS IS
Related Themes
Need help? Contact us