Posted on : 15-Sep-2010 | By : admin | In :
Show all
iPad Web WordPress theme has 2 different widget areas and threaded comments, and also supports paged comments and has 2 different page templates for advanced usage. The control of images is done from the post page. The theme is released under GPL. You can use it for all your projects for free and without any restrictions. You may modify the theme as you wish however, please keep the footer links AS IS.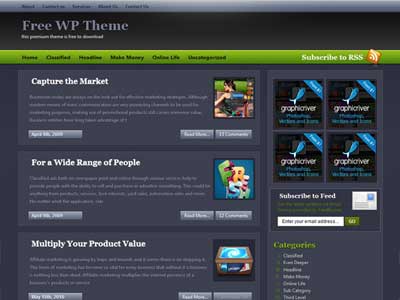 Live Demo | Download | WordPress Theme
Features:
CSS-based layout
2 columns of fixed width
Widget ready
XHTML 1.0 Transitional valid
multi-browser compatibility: tested on Firefox, Safari , IE7, IE8, Chrome
easy to setup, theme options page
automatic thumbnails
and more!

Need help? Contact us